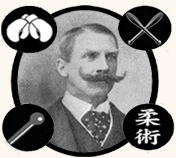 Welcome back to the Bartitsu Society website!
Since a catastrophic technical failure of the original Bartitsu.org site in April of 2019, we have been working behind the scenes to recover and restore the site, primarily via the Internet Archive's Wayback Machine.
The restoration process has been laborious but we've now recovered and/or reconstructed the great majority of the items posted on Bartitsu.org between 2008-2019, including all of the significant technical and historical articles.
During the reconstruction the archived posts unavoidably became chronologically disordered. Most of them now begin with a note recording the date when they were originally posted.
We'd also like to draw your attention to the significantly expanded Categories menu. This feature will allow you to quickly and easily locate posts within a wide range of themes, supplementing the ever-useful search box.
This event has highlighted the fragility of electronic media and inspired the production of a third volume of the Bartitsu Compendium, in order to further preserve the best of the research presented here since the publication of the second volume in 2008. The Bartitsu Compendium, Volume III was published in December of 2022.
We hope you enjoy the Bartitsu Society website 2.0!