Originally published on the Bartitsu.org site on Friday, 30th November 2018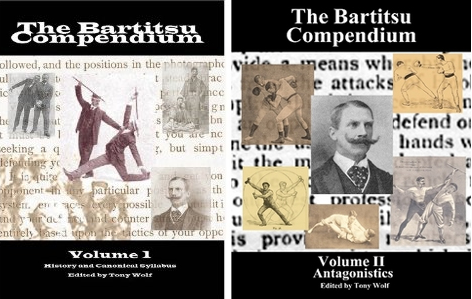 The Bartitsu Compendium, Volume 1: History and the Canonical Syllabus (2005) and The Bartitsu Compendium Volume II: Antagonistics (2008)
Compiled by members of the Bartitsu Society, volumes 1 and 2 of the Bartitsu Compendium are availablein print from Lulu.com.
Volume I collates most of the canonical Bartitsu material and features over two hundred and seventy pages of original essays, rare vintage reprints and never-before-seen translations, illustrated with hundreds of fascinating photographs and sketches.
Volume II provides resources towards continuing Barton-Wright's martial arts experiments. It combines extensive excerpts from fifteen classic Edwardian-era self defence manuals, including well over four hundred illustrations, plus a collection of long-forgotten newspaper and magazine articles on Bartitsu exhibitions and contests; new, original articles on Bartitsu history and training; a complete course of Edwardian-era "physical culture" exercises; personality profiles, essays and more besides.
Bartitsu: The Lost Martial Art of Sherlock Holmes documentary (2011)
At the end of the Victorian era, E. W. Barton-Wright combined jiujitsu, kickboxing, and stick fighting into the "Gentlemanly Art of Self Defence" known as Bartitsu. After Barton-Wright's School of Arms mysteriously closed in 1902, Bartitsu was almost forgotten save for a famous, cryptic reference in Sir Arthur Conan Doyle's The Adventure of the Empty House.
In this fascinating 54-minute documentary shot in Switzerland, Italy, the UK and the USA, host Tony Wolf reveals the history, rediscovery and revival of Barton-Wright's pioneering mixed martial art.
Bartitsu: The Lost Martial Art of Sherlock Holmes is available from the Freelance Academy Press.
---
Suffrajitsu: Mrs. Pankhurst's Amazons graphic novel trilogy (2015)
London, 1914: The leaders of the radical women's rights movement are fugitives from the law. Their last line of defense is the secret society of "Amazons": women trained in the martial art of bartitsu and sworn to defend their leaders from arrest and assault.
After a series of daring escapes and battles with the police, the stakes rise dramatically when the Amazons are forced into a deadly game of cat and mouse against an aristocratic, utopian cult…
The Suffrajitsu graphic novel trilogy is available as e-books from Amazon and comiXology – we strongly recommend comiXology's Guided View system for a fluid, intuitive online reading experience – as well as in print form as part of the Blood and Honor anthology.
---
Bartitsu: Historical Self-Defence with a Walking Stick (2018) instructional video series
German Bartitsu instructor Alex Kiermayer has collaborated with Agilitas.tv in producing this new instructional video series on the art of Vigny stick fighting, as incorporated into the original Bartitsu curriculum at the turn of the 20th century.
The series runs to 2 hours and 53 minutes and the German-narrated version is now available as a streaming download via Vimeo and on DVD via this site.
---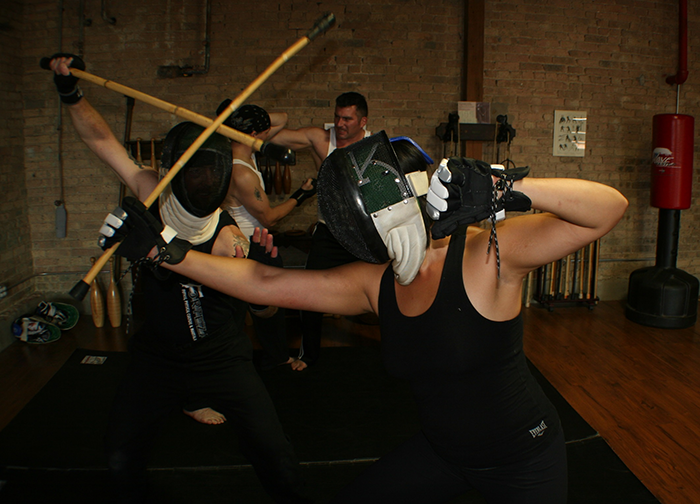 Bartitsu sparring cane from Purpleheart Armory
Widely used by members of the Bartitsu Society, these rattan training canes are recommended for both drills and sparring applications.
---
The BlackSwift Raven self-defence walking stick
Combining a stylish, low-profile appearance with superb dexterity and great strength, the BlackSwift Raven is especially recommended as a "carry" cane for self-defence purposes.
---
The Unbreakable Umbrella
Developed by Thomas Kurz specifically for self-defence applications,  Unbreakable Umbrellas are available in a variety of styles including ball-handle, crook-handle and telescopic models.  All Unbreakable Umbrellas are capable of withstanding extreme stress and impacts that would destroy regular umbrellas.
---
Bonus free gift: No Man Shall Protect Us (2018) suffragette bodyguard documentary
Embedded here for your convenience, the 2018 documentary No Man Shall Protect Us details the origins and exploits of the jiujitsu-trained Bodyguard Society who protected the radical suffragettes of England just before WW1. The documentary refers to Bartitsu and offers a special focus on Bodyguard martial arts instructor Edith Garrud, who was one of the most prominent self-defence teachers in England during the early 20th century.