Originally published on the Bartitsu.org site on Saturday, 14th April 2018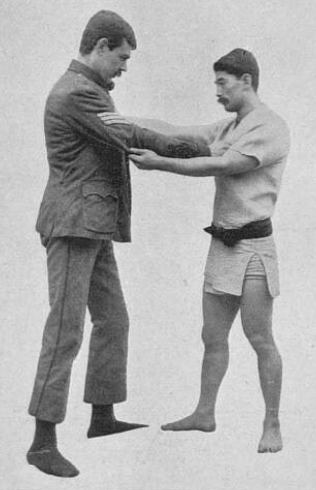 Although he had been brought to London to partner Yukio Tani in teaching and demonstrating Japanese unarmed combat via the Bartitsu Club, Sadakazu "Raku" Uyenishi went his own way after the club closed during early 1902. While Tani went on to great success as a music hall wrestler, Uyenishi established the successful Golden Square School of Jujitsu. As described in this article from the Leicester Daily Post of December 9th, 1905, Uyenishi also gave a number of exhibitions for the armed services.
Noting as usual that the term "Jap" did not carry any negative connotation in Edwardian English, being directly equivalent to the abbreviation "Brit" for British.
Professor Uyenishi, of London, and Mr. Nelson, a promising pupil, gave fine display of the Japanese national art at Glen Parva barracks on Thursday evening. The first portion consisted of throws and self-defence tricks, with some of the wonderful locks which are used in the above. The trips by ankle and knee were given with marvelous dexterity, but undoubtedly the most wonderful tricks of this kind were achieved with the cross hock and cross thigh, when the defeated wrestler found himself performing a neat "cartwheel."
The Professor also gave a fine exhibition of self-defence tricks, showing how a small man, or woman, may easily defeat a burly opponent, although taken at a serious disadvantage by being attacked from behind. Then followed a lesson for the pupil, who, despite his frantic endeavours to keep his feet, soon found that he had had enough.
The final part of the display was between the Professor and Sergt. Jones, of the gymnastic staff of the depot, who came to the front on the Professor's call for a volunteer The sergeant made a determined effort to keep feet and, if possible, throw the clever little Jap, but ultimately had to give the signal of defeat, after a good struggle. This concluded the performance, no other candidate coming forward to try conclusions with the professor, who, needless to say, had delighted the audience.