Originally published on the Bartitsu.org site on Friday, 3rd February 2017
The following article, originally published in The Sporting Life, offers fresh details on the multi-style assault-at-arms staged at the London Bartitsu Club during late November of 1901.
Several references may require clarification. The fact that Barton-Wright's terms of challenge were open to "black or white" fighters was notable in 1901, when it was common for promoters and fighters to bar challengers based on race.
The Charlemont vs. Driscoll match, which had taken place in Paris during October of 1899, was a mixed savate/boxing contest whose highly controversial outcome in favour of Charlemont was widely held as an example of appalling sportsmanship.  
"Trouser wrestling" refers to the Swiss schwingen style, in which athletes gripped each other by their breeches and belts in much the same way that jiujitsuka grip each others' uwagi jackets.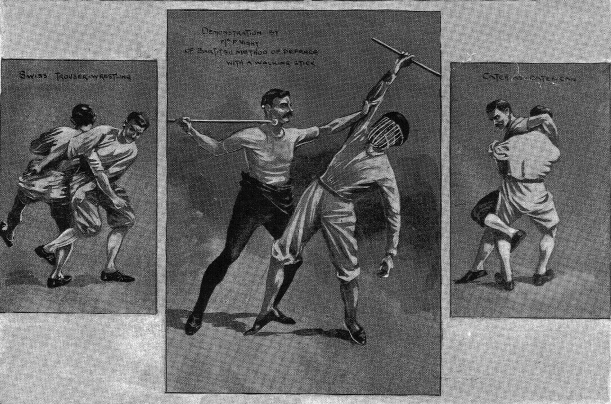 Mr. Barton-Wright has established, at 67b Shaftesbury Avenue, a School of Arms known as Bartitsu, a name given to a method of wrestling demonstrated with success by his school instructors for some time past in the London Music Halls and at the School of Arms aforementioned. Mr. Barton-Wright, in print and from the stage, has also defended this system of wrestling in forcible and expressive language, and no matter what may be urged against it by opposing forces, the fact remains that he, with his money and his men, is prepared to face all comers – big or little, black or white, no-one is barred. His representatives are small in stature, but athletically proportioned, quick, cunning, and trained in the mysteries of all the tricks of the trade.
Last Saturday evening, the founder of the school introduced an assault at arms to his patrons and friends, which will doubtless increase in public favour with repetition. It was a most interesting and instructive entertainment, rendered all the more attractive by the introductory remarks of the chief.
An English boxer of repute, in the person of Jem Barry, measured his strength and ability against Pierre Vigny, instructor in Bartitsu (Savatte – sic) boxing, and as will readily imagined, great curiousity was shown by the spectators in the desire to learn whether the English style would triumph, or vice-versa. Charlemont and Jerry Driscoll's set-to was called to mind. The remembrance of that memorable passage of arms fired the imagination and predictions of the company, all of whom disregarded nationality, and hoped, not in vain, for fair play. The company was more select than numerous, and included one lady, Colonel Fox, Captain Hill, Captain Hutton, and Mr. Hugh Astley.
At twenty-five minutes past nine Pierre Vigny, the world's champion, commenced proceedings with stick drill, ambidexterity in the use of the right as well as the left arm being a special feature. With a pupil member (Mr. Noel), he subsequently took part in a mimic combat.
Jem Barry opposed Vigny a la savate and boxing. Barry weighed 11st. His fighting weight is 10st 6lb. Vigny weighs 11st 4lb. Captain Hill was timekeeper. Two minutes per round. Sharp work right and left. Barry knocked Vigny down after nearly getting the right on the jaw with sufficient force. Vigny got up and kicked right and left. Severe business.
Round 2. Sharp and severe work at close quarters. Both on ground twice, and toppled over in an embrace among the people.
Round 3. Barry led. Vigny had a rough time of it, and they frequently clinched. To the end, a splendid encounter. Vigny kicked and boxed hard. Barry punched with might and main. When time was called, honours were to the advantage of Barry on points.
Demonstration of the Bartitsu style of wrestling by the two Light-weight Japanese Champions.—This was very amusing. Dextrous, tricky, and the very acme of agility.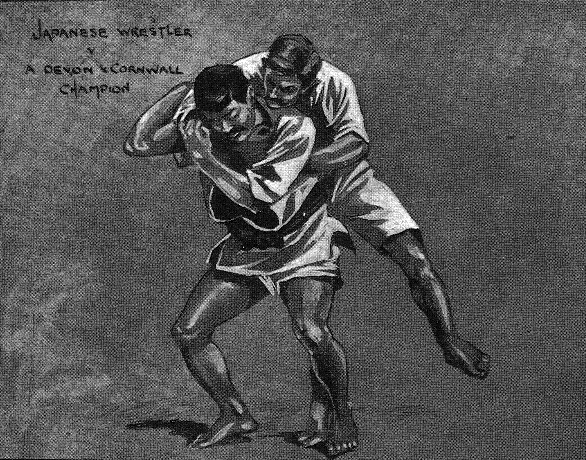 Contest between one of the Japanese Light-weight Champions and a Cornish and Devonshire Heavy-weight.—The Jap won the first fall, the second and the last.
Contest between the Bartitsu Instructor of the Catch-as Catch-Can Style Wrestling versus a Swiss — The instructor won the first fall, and, after a hard struggle, the second, in which he injured his right arm. The third trial of skill ended favour of the instructor.
The entertainment concluded with exhibition of Swiss trouser wrestling.