Originally published on the Bartitsu.org site on Friday, 22nd January 2010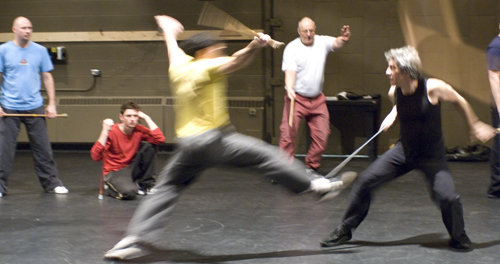 Maestro Sean Hayes will be hosting a two-day Bartitsu seminar with Tony Wolf at the Northwest Academy of Arms on Saturday, March 13 and Sunday, March 14, 2010.
Both days will begin with training in the Wolf System, an integrated progression of competitive and co-operative combat biomechanics exercises. These challenging exercises foster the balance, improvisational ability, physical confidence and related skills that are fundamental to the study of any martial art.
The classes will then segue into the study of both canonical and neo-Bartitsu. The canonical material is based on E.W. Barton-Wright's classic 1900 articles, "The New Art of Self Defence" and "Self Defence with a Walking Stick" and provides a platform for training in neo-Bartitsu, continuing Barton-Wright's experiments in cross-training between jiujitsu, fisticuffs, low kicking and the Vigny system of walking stick fighting.
When: Saturday March 13 and Sunday March 14, 2010 at the Academy. 9 am to 5 pm each day, with lunch from 12 – 1 pm.
Space is limited!
Where: The Northwest Academy of Arms, Eugene, Oregon
Cost: Two Days – $75 One Day – $50 At the Door – add $20
Lunch: $12 additional for cold cuts, good bread, apples, coffee and tea ($8 for one day)
Equipment: Suitable exercise clothing, including shoes (we have a textured wooden floor). Sturdy cane (crook handle preferred), or strong, smooth dowel approx. 36″ long. We will have some training canes for a minimal cost at the seminar.
Fencing masks, boxing gloves and judogi jackets are useful, but are
not required. The Academy has some masks for loan, but bring your own if you can.
Water bottle (refills from on-site fountain).