Originally published on the Bartitsu.org site on Sunday, 1st January 2017

By March of 1910,  jiujitsu instructor Edith Garrud was becoming increasingly involved with the radical women's rights movement, teaching her "Suffragettes Self-Defence" classes at Leighton Lodge in Edwardes Square, Kensington and performing politically charged demonstrations in which she defeated men dressed in police uniforms.
Edith's jiujitsu dojo in Regent Street was the setting for the above photo sequence, which was originally published in The Sketch magazine.
The tatami mats stacked against the walls in the fourth and sixth photos were probably intended to serve as a neutral background for the photographer, perhaps so that the police constable's uniform could be better distinguished from the dark wood panelling behind them.
Notably, a close-up view of one of the bookshelves reveals that the dojo made copies of Sadakazu Uyenishi's The Text-Book of Jiujitsu and W. H. Collingridge's Tricks of Self-Defence available to their students.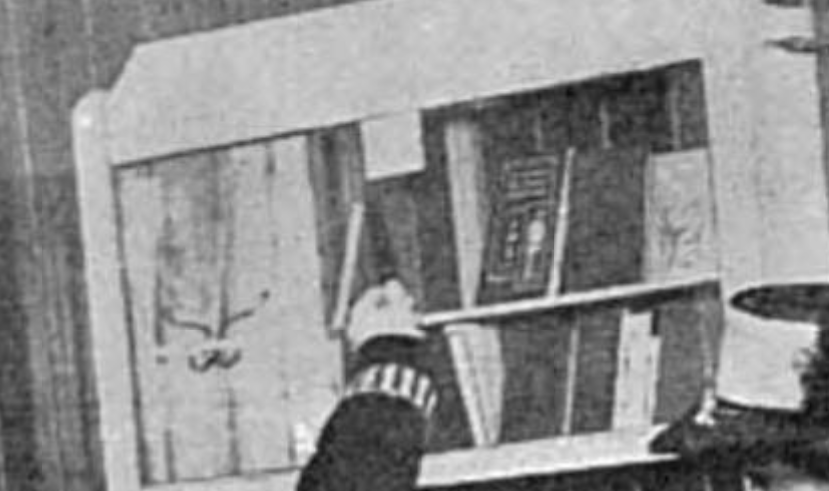 Uyenishi was, of course, one of the young Japanese instructors who had taught jiujitsu at the Bartitsu School of Arms.  He later followed his colleague Yukio Tani onto the boards of the London music halls as a challenge wrestler, but the impression is that he was happier as an instructor. Uyenishi taught his art to members of the British armed services as well as establishing the successful Golden Square dojo, which William and Edith Garrud later took over when Uyenishi returned to Japan.
Like the Garruds, W. H. Collingridge was a "second generation" instructor who had learned Japanese unarmed combat from Yukio Tani and his associate, Taro Miyake. His book was still being published, in an edition revised by their mutual colleague, Percy Longhurst, as late as 1958.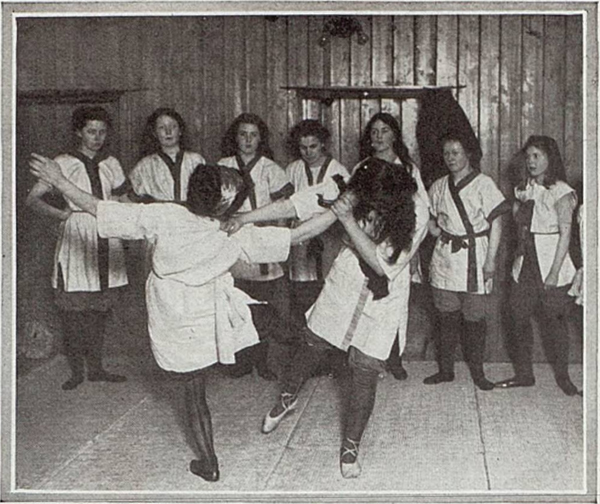 This photograph, originally published in The Sphere of Feb. 11, 1911, offers a very rare glimpse of one of Edith Garrud's jiujitsu classes for girls, which also took place at the Golden Square dojo. The unusual gi jacket designs, featuring dark ribbons along the hem-lines, may have been unique to these classes.
Perhaps some of the young ladies shown in this photo went on to join the clandestine "Bodyguard" unit of the radical suffragette movement, for which Edith Garrud also served as a trainer …