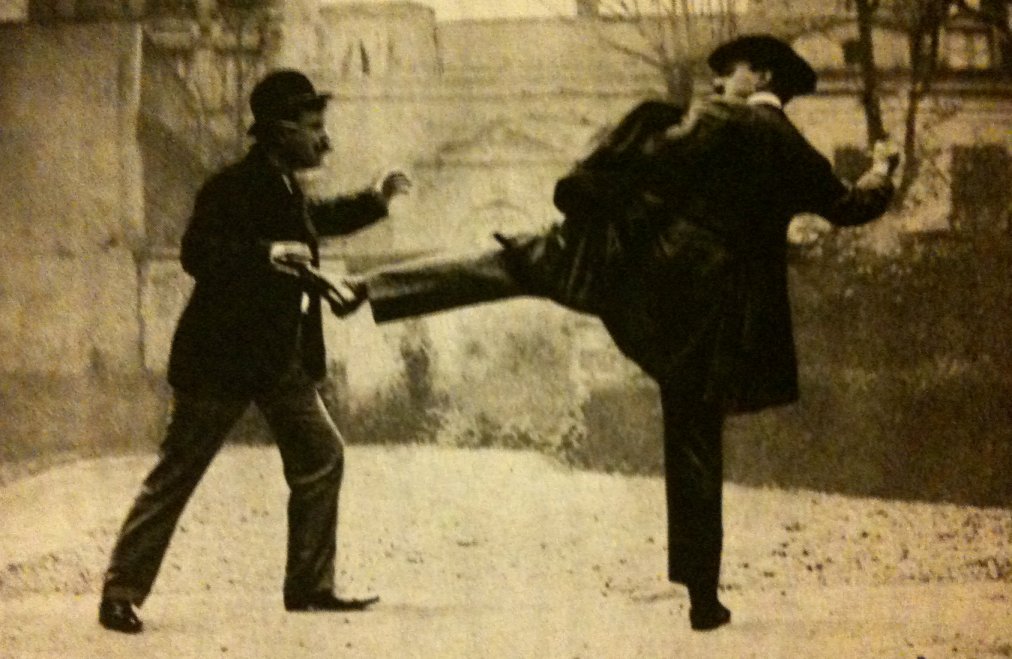 "LA DEFENSE DANS LA RUE." This is the title of a book published by Jean Joseph Renaud — Pierre Lafitte and Co.. Paris. Treatises and booklets on self defence—generally based on some single system specially favoured by the author– are no means rare, but it is not often that a manual on this subject is published as well printed, illustrated, or equally comprehensive as to details as that just written by a French sportsman, best known in these countries for his fine swordsmanship.
In the preface the author lays stress on the eclectic character his work. While being practically acquainted with wrestling. French and English boxing, jujitsu and the manipulation of the walking stick, knife, and revolver for defensive purposes, Joseph-Renaud does not consider any of them as holding a monopoly for self-defence, and carefully analyses chapter by chapter each technique which be has—partly or wholly—found capable of assisting the law-abiding citizen against the hooligan or Apache. He attaches, however, a supreme importance to jujitsu, which in consequence is set out fuller than any of the other techniques of attack and defence.
The purpose of the book is twofold; first, to point out to the active sportsman who pursues boxing, wrestling, or any kindred form of exercise which are the most suitable features of his favourite sport for practical purposes, and, secondly, to enable all those who can spend but little time on training to acquire a few easy, but sure, means of self-defence.
It is but natural that Jean Joseph-Renaud, being a Frenchman, should put himself to some trouble in order to vindicate the science which, under the name of French boxing, is somewhat sneered at in England. He puts it on record that several times while measuring himself against English boxers he elicited from them genuine recognition of the merits of French boxing, "given," as he puts it in a way very complimentary to the English sportsman, "with the utmost good grace and exquisite loyalty of the Englishman." His exposition of two different schools of French boxing—viz.. "le jet de pied haut and le jet de pied bas "—are clear, and interesting, and deserve in any case attention as good forms of exercise.
Another typically French feature of M. Joseph-Renaud's book are the chanters on attack and defence by means of the knife and the tactics employed by that pest of Paris, the Apache. The author is not above confessing that the information which he gives in this connection has been acouired at first hand. The well-known attacks, head downwards, so much in favour with the ruffians of the "Boulevards exterieurs," are fully dealt with, both from the attackers' and the defender's point of view, in a chapter, "The Tactics of Street Fighting" which contains a host of valuable hints for all those desirous of venturing into the dark part of Paris. There is also a chapter on self-defence for ladies, mostly based on jujitsu.
One hundred and twenty-five full-page illustrations after photos supplement the author's explanations, and the text has been furthermore enriched by about forty sketches. The whole is a very careful and able compilation containing much that is valuable and interesting.