Originally published on the Bartitsu.org site on Sunday, 14th January 2018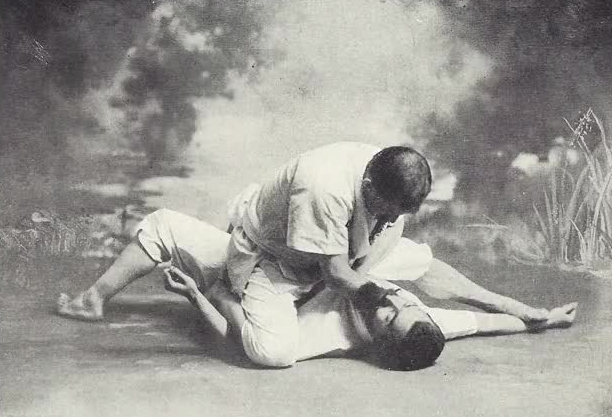 A scan of Ernest Regnier's instruction manual Les Secrets du Jiu-Jitsu (1906) is now available online via this link.
Regnier was a talented but down-on-his-luck Parisian wrestler until he was sponsored by physical culture entrepreneur Edmond Desbonnet to travel to London and train at the Japanese School of Jujitsu.  Regnier's athletic prowess and antagonistic skills allowed him to learn quickly, and it certainly didn't hurt that his teachers included former Bartitsu Club instructor Yukio Tani and his colleague, Taro Miyake.
Returning to Paris, Regnier adopted the vaguely Japanese pseudonym "Professor Re-Nie".  On October 23 of 1905, he decisively defeated savateur George Dubois in a much-hyped style-vs.-style challenge contest, sparking an intense but short-lived craze for jiujitsu in the French capital.  He then established a salon de jiu-jitsu in Desbonnet's exceptionally well-appointed gymnasium.  Regnier also had the distinction of training senior Parisian policemen in Japanese unarmed combat, but his jiujitsu career was effectively ended in December of 1908, when he ill-advisedly took on the giant Graeco-Roman wrestler Ivan Podubbny.
Les Secrets du Jiu-Jitsu was co-authored/ghost written by a writer named Guy de Montgrilhard, leading to some confusion in later generations as to "Professor Re-Nie's" real name. Although it is, in fact, a fairly simple compendium of some basic throws and locks, the fact that Regnier studied at the Japanese School of Jujitsu places the book squarely within the "Bartitsu lineage" and it serves as a useful supplement to the works of William Garrud, Percy Longhurst and other second-generation instructors.