Originally published on the Bartitsu.org site on Tuesday, 6th December 2011
The origins of the combat-simulation game of paintball are usually traced back to the early 1980s, when air-powered paint pistols used by foresters to mark difficult-to-reach trees were adapted for sporting purposes. However, an interesting predecessor may be found in the practice of mock-duelling with wax bullets, dating right back to the very early 1900s.
A French medical doctor named de Villers is credited with the invention of the first pistols and wax balls used in "bloodless duelling", a practice promoted circa 1905 by the Parisian Club de Pistolet:
THERE has been established in Paris a "School of Duelling," which is frequented only by the elite, one prominent member being ex-President Casimir Perier. This remarkable academy is conducted by Dr. de Villers, and combats frequently take place there by way of practice. In these mimic duels wire masks are worn to protect the face and bullets made of wax are used, so that no injury may be sustained by the combatants. In all other respects, however, the conduct of the affair is carried through as on the "field of honour," so that when the time comes — if it ever does come — for the scholars to take part in a serious duel they may acquit themselves with credit to themselves and disaster to their adversary — although this latter point is not of much importance.
Although initially intended as a form of simulation training for real pistol duels, wax bullet duelling was quickly adopted as a purely recreational sport in other countries. By 1909 it had been introduced to the Eastern United States, by members of the Carnegie Sword and Pistol Club and the New York Athletic Club: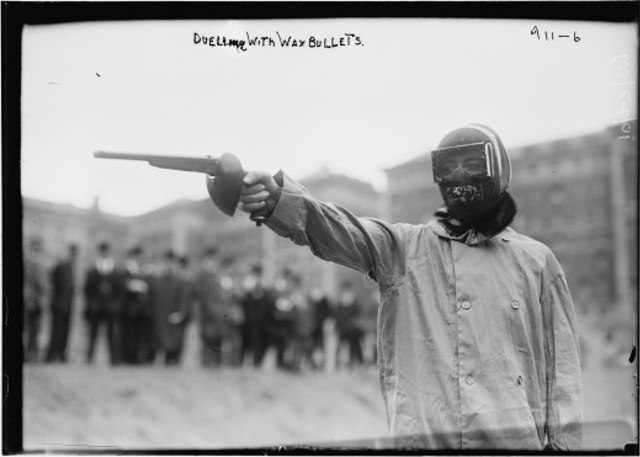 Despite the leather protective garments, fencing masks with double-thick glass shields for the eyes and hand-guards built onto the pistols themselves, the new sport of "bloodless duelling" was not, in fact, invariably bloodless. Shooting enthusiast Walter Winans, an American resident in London, accidentally shot through the hand of fellow mock-duellist Gustave Voulquin while practicing the sport in Paris. Mr. Winan's own account of the dangers of the sport is available here, and here is a report by a journalist who faced Winans in a similar duel.
Bartitsu Club member Sir Cosmo Duff Gordon was seemingly attracted to a variety of eccentric pastimes, including wax bullet duelling. He is shown to the right in this picture, posing with duelling equipment alongside Mr W. Bean and Captain MacDonnell: