Despite considerable popular interest in the jiujitsu exhibitions of Yukio Tani and Sadakazu Uyenishi during 1901, many critics declared that they would withhold their judgement until they'd seen the Japanese style in earnest action against a European champion or two. Promoter Edward Barton-Wright, however, had his work cut out for him in persuading European wrestlers to test the novel system in the public arena.
Among the first grapplers to take up Barton-Wright's challenge was Percy Longhurst. Tough, well-respected and experienced in a diverse range of traditional English styles, Longhurst was the type of plausible contender the sceptics had been looking for. His bouts with Tani, described here in the Music Hall and Theatre Review, helped to kick-start the Bartitsu Club's brief but historically significant "golden era" of music hall challenge contests.
Noting as usual that the term "Jap" was not used pejoratively in Edwardian English, being instead a simple abbreviation in the way "Aussie" stands in for "Australian".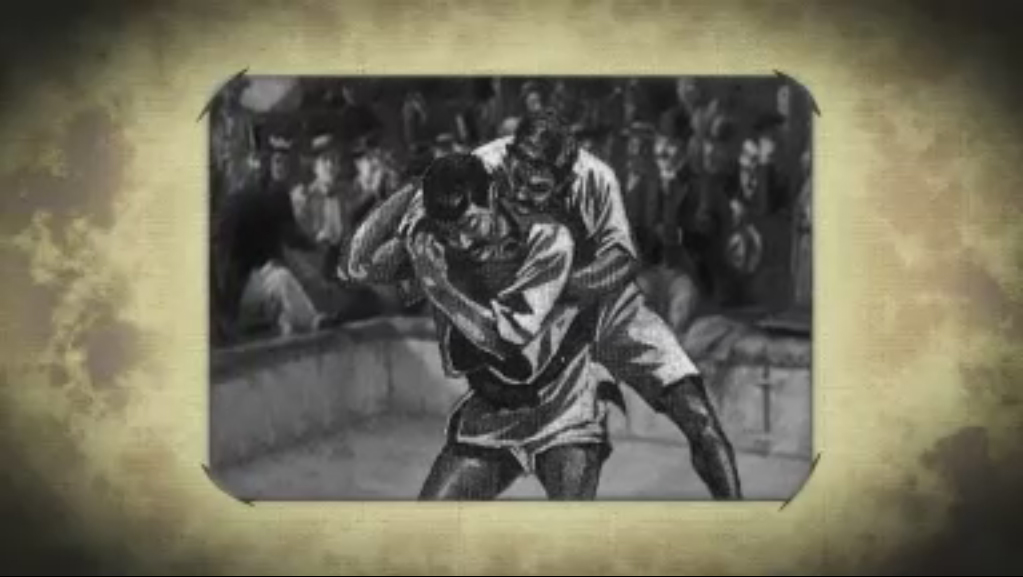 ON Wednesday night Mr. Percy Longhurst, a member of the Cumberland and Westmoreland Amateur Wrestling Society, was, by permission of Mr. Barton-Wright, allowed to have a bout with one of the two Japs now giving illustrations of Japanese wrestling and the art of self-defence at the Tivoli.
A week ago Mr. Longhurst tried his skill on the Tivoli stage, and from the insight he then gained into the methods of his opponent he had a notion that a second time he could do better. The opportunity afforded him was fully availed of, and the Cumberland amateur, who struggled hard with his Japanese opponent, the one named Tani — the other, although performing, having injured his hand — found himself defeated at every move.
The contest was maintained with the utmost vigour on both sides, the little Jap, however, having it pretty much his own way, although in one or two of the bouts the North countryman gave him a good deal of trouble.
Mr. Barton-Wright informed the audience that Mr. Longhurst had expressed a desire to try his skill and strength in holding his antagonist down. Accordingly Tani lay flat on his hack on the stage, and the Cumberland wrestler did all he could think of to prevent him from rising, but all his exertions were unavailing, the Jap wriggling away from him after a very short contest, amid the loud applause of a crowded house.
The style of Eastern wrestling, some 3,000 years old, has scarcely anything in common with European methods. The Japs are eel-like in their movements, wriggling and slipping away from any grip, and doing it with the utmost celerity and without apparent effort. An expert Russian wrestler has challenged them for one night next week, and it will be interesting to see how he fares with such redoubtable champions.

Unfortunately, the "expert Russian wrestler" was to back out of his challenge at the last possible moment – while he was literally waiting in the wings of the Tivoli stage!
Percy Longhurst, however, was impressed enough with jiujitsu to learn the Japanese art himself – almost certainly at the Bartitsu Club, as he wrote of training with Barton-Wright – and seems to have maintained cordial relationships with many of the Bartitsu Club principals for some years thereafter. He went on to write numerous articles and several books on the subjects or wrestling, self defence and physical culture. Aside from Barton-Wright's Pearson Magazine article series, Longhurst's 1906 book Jiu-Jitsu and Other Methods of Self Defence is about the closest thing to a "Bartitsu manual" to have been published in England during the early 20th century.