Originally published on the Bartitsu.org site on Tuesday, 27th February 2018
Although we don't have a full catalogue of the atemi (striking and nerve pressure techniques) practiced at the Bartitsu Club circa 1901, analysis of the writings of E.W. Barton-Wright and his associates reveals a preponderance of attacks targetting the opponent's face and throat. The trachea (or "tonsil") appears as a pressure target in three of the fifteen atemi methods represented in Barton-Wright's "New Art of Self-Defence" articles (1899). Journalists and other observers frequently (and somewhat alarmedly) referred to these methods of unarmed Bartitsu as "fiendish science" and "foul play".
While throat attacks were, indeed, counted as fouls in European wrestling styles, Japanese jiujitsu was concerned with practical self-defence rather than manly sport. As Barton-Wright himself had pragmatically noted,"no method was too severe" to be applied in defence of one's own life.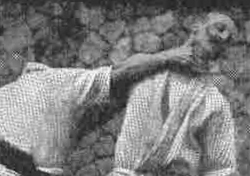 With your left hand firmly grasp his right wrist. Then seize his throat with your right hand, forcing your thumb into his tonsil. This will cause intense pain, and he will bend his head and body backwards in order to avoid it. In this position he is standing off his balance and you take this opportunity of placing your right foot behind his right knee, and then proceeding to throw him as before.
In this video, nightclub bouncer and bodyguard Scott Pilkington demonstrates the direct stopping power of a trachea hold: