Originally published on the Bartitsu.org site on Sunday, 12th November 2017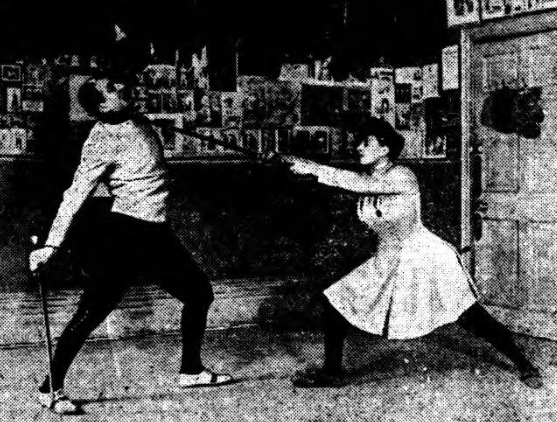 This newly-discovered image of Marguerite and Pierre Vigny shows the former demonstrating a double-handed thrust to the throat. Note that Pierre Vigny, left, is holding what appears to be a typical Vigny-style self-defence cane of his own design.
The original caption from the Weekly Irish Times of January 18, 1908 reads:
THE CHAMPION LADY FENCER – Miss Saunders*, the champion lady fencer, has issued a challenge to fence with any lady for £200 a side. In our photograph Miss Saunders, assisted by Mons. Vigny, is giving a demonstration of her system of walking-stick fencing, illustrating how people can protect themselves with a stick if they know how to fence.
* Note that Marguerite Vigny went by the professional name "Miss Sanderson"; "Miss Saunders" appears to have been a misspelling.
Referred to as the "bayonet" thrust by Bartitsu founder E.W. Barton-Wright, this attack seems to have been a favourite of Marguerite Vigny's, as shown below:
During the 1970s revival of walking stick and umbrella self-defence, Los Angeles-based instructor Jill Maina taught the same technique as a means of warding off an attacker.