Originally published on the Bartitsu.org site on June 3rd, 2017
The anonymous author of this March 15, 1899 To-Day Magazine satire wittily skewers E.W Barton-Wright's "New Art of Self Defence" series for Pearson's Magazine.
ONE of the monthly magazines which has been with us for a little time has in its current issue published an article on the "New Art of Self-Defence."
Practical trial by the writer of the series, which To-Day now starts, has shown that it is possible for the exponent of the "New Art of Self-Defence" to do everything which he claims his art enables him to do, provided he can always find an opponent who will be good enough to use only one arm in attack or defence, and who will otherwise be amenable to the wishes of the exponent, and do nothing but what the system arranges that he shall do. The article published below, and those to follow, will show how far this system of self-defence will go, and what can be done with an opponent who has properly studied the "New Art of Self Defence," and is determined to depart in no way from the lines laid down therein.
I AM no relation of de Rougemont, but I have learned from him that the up-to-date editor always looks coldly upon that which is probable, commonplace, or easy of explanation ; therefore with the view of getting the said editor to use his organ as the medium of supporting me, and placing my writings in the hands of the public, I have prepared a series of articles on Self-Defence, which deal entirely with carefully thought out improbabilities, which are by no means easy of explanation, and which I may at once state I don't propose to explain.
My first interview with the editor, who accepted this series, will give some inkling of the methods of my system of self-defence. I had sent up my card and, as I expected, the editor, not knowing me, told the messenger to say he was out. I was prepared for this, and had taken the precaution of following the messenger into the room. I heard the editor's statement, which he made without looking up.
"That remark, sir," said I, "is a d____d lie!"
I reckoned on the man's temper, and knew that I would immediately have an opportunity of exhibiting my art of self-defence, and so get right to the core of my business at once. I was not wrong in my calculations. He replied with a heavy metal ink, pot; I countered with the messenger, who received it full in the forehead. The ink-pot made a nasty hole in his head, and his face was splashed with ink. I would have wiped away the ink, but found he was dead, so it did not matter.
"That," said I to the Editor, "brings us to business."
"Your business?" he queried, as he hurled a solid ebony ruler at my head.
"Self-defence, a new system," I replied, and I swung him in front of me with such lightning speed that he warded off the ruler. It caught him in the wind, but he recovered in about half an hour. I waited for him to speak, or to make some move. He seated himself, and pressed a button in his desk. A bell rang without, and another messenger entered, "Put that in the waste paper basket"—he pointed to the corpse—"and fill my ink-pot."
I took a seat while his instructions were being carried out, and when the messenger had retired we discussed my business, and came to terms. Before I give any particulars (I refuse explanations) of my art of self-defence, perhaps it will not be amiss to make a few introductory remarks as to the general conception of self-defence.
In foreign countries, when a foreigner fights, he has only one goal, and that is to get the better of his adversary, and any means is considered justifiable to obtain this end. Of course his idea of honour differs from ours, so that, whereas with us Nature's weapons are considered the only honourable method of settling a dispute, a foreigner will not hesitate to use a wardrobe, a beer barrel, a knife and fork, or, in fact, anything that comes handy.
It is to meet eventualities of this kind that my system has been devised. The general principles may be thus summed up. (1) To get an opponent whom you can trust to do as you wish; (2) to surprise your opponent by the strangeness of your movement, and their infinite variety.
Some of the feats which I shall now describe may, perhaps, seem difficult, but if my instructions are carefully followed, and everything requisite is kept conveniently at hand, I feel sure that steady practice will make them quite easy of performance.
Feat No. 1. I will suppose now that you are walking along a silent street at night and you are attacked by a man with a knife and fork. It is always well at night to wear your overcoat hung on your shoulders without passing your arms through the sleeves. This will facilitate the mode of defence needed for the knife and fork attack. When the man approaches you, throw off your coat and give it to him, mention that you will return, and hurry off to the nearest butcher's shop. (If all the shops are closed have no compunction in knocking up a butcher, seize the toughest steak you can find and return to the scene of action.)
If the man is gone, you have lost your overcoat, but your defence has been successful, and you are a steak, albeit a tough one, to the good. If the ruffian is still there approach him swiftly and impale the steak on his fork. While he is wrestling with the steak, take hold of him by the right leg, jerk it quickly forward, push your head into the pit of his stomach and he will lie down. Then you can recover the steak and your overcoat, and if you feel so inclined you will be able to take the knife and fork and any valuables he may have.
Feat No. 2. Here is an excellent method of forcing an undesirable person to leave a room. Say, for instance, he is a big man and overawes the policeman you may feel it necessary to call in, the best thing to do then is to immediately hire or buy a windlass, have it firmly fixed somewhere outside the room, test the chain, procure a padlock with a Yale lock and then enter the room again with the end of the chain and the padlock held in the left hand, which it will be as well to conceal behind your back.
Walk straight up to the undesirable person, seize him by the left leg, bring forward your chain, and, without telling him what you are going to do, lock the chain carefully round his ankle. Return then without loss of time to the windlass, turn the handle quickly but firmly, and in a very short time the undesirable person will leave the room. While performing this feat it will be well to keep so far out of your opponent's reach as to make it impossible for him to hit you or retaliate in any way.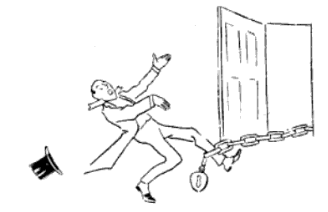 In case any one should fight shy of the practical use of this trick, it may be added that the person thus treated would, should he resist the action of the chain, feel such pain as to compel him to submit meekly long before any serious injury could be done to him.
It will not be necessary to impress upon the reader the importance of knowing how any undesirable person may be promptly ejected from a room. Thousands of cases have occurred in which a knowledge of this method would have been of inestimable service. No one could resist the treatment I have suggested, as the reader will be able to understand for himself by testing it on his friends.