Originally published on the Bartitsu.org site on Thursday, 13th December 2018
An ingenious solution to the problem of finding (or simply wearing out) sparring partners is detailed in this short article from the Scientific American of July 7, 1906.
---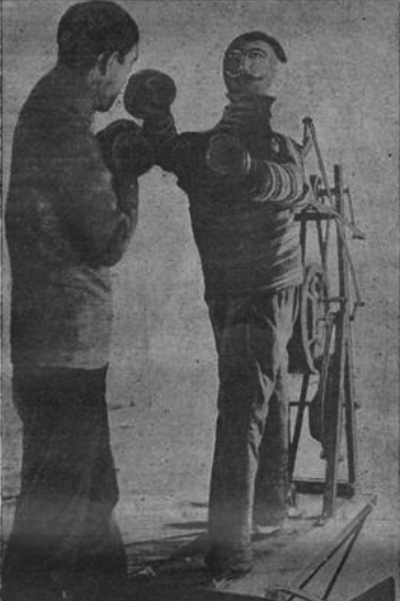 To accommodate the needs of the professional boxer, as well as to instruct the novie in the "noble art of self-defense", Mr. Charles Lindsey, of New Britain, Conn., has invented an automatic sparring machine.
This machine is really a formidable fighter, and has already gained quite an enviable reputation in the many encounters it has had with local talent. Not only does it deliver straight leads and counters, but it varies these with an occasional uppercut, and its blows are rained with a speed and power that are the envy of the professional boxer.
The machine does not "telegraph," that is, it does not give a warning of a coming blow by a preliminary backward jerk, which is so common to all but the best of boxers. Nor can the opponent escape these blows by side-stepping, because the automaton will follow him from one side to the other. At each side of the opponent is a trapdoor, connected with the base of the machine in such a way that when he steps on one or other of these doors, the machine will swing around toward him.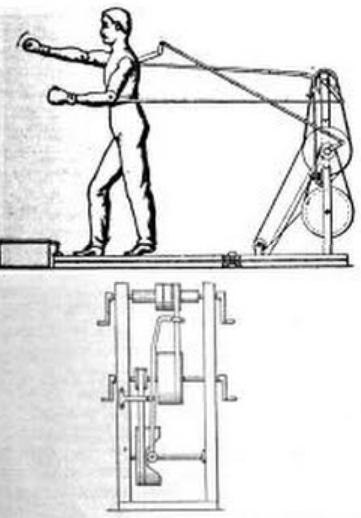 The arms of the mechanical boxer are fitted with spring plungers, which are connected with crank handles turned by machinery. Separate crankshafts are used for the right and left arms, and they carry pulleys between which an idle pulley is mounted. These pulleys are connected with the main driving pulley by a belt which is shifted from side to side, bringing first one and then the other of the boxing arms into action. The belt-shifter is operated by an irregular cam at the bottom of the machine, and this gives no inkling as to which fist is about to strike.
Aside from this, the body of the boxer is arranged to swing backward or forward under the control of an irregular cam, so that the blows will land in different places on the opponent; for instance, a backward swing of the body will deliver an uppercut. The machine is driven by an electric motor, and can be made to rain blows as rapidly as the best boxer can receive them, or it may be operated slowly for the instruction of the novice. As the machine is fitted with spring arms and gloves, an agile opponent can ward off the blows and thus protect himself.
---
By 1939 a simplified version of the mechanical pugilist, employing trigger-activated pneumatic pistons, was being touted by its inventor, Frederick Westendorf: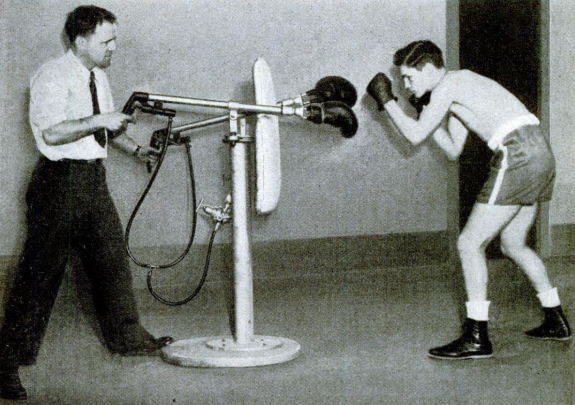 C.F. also the various contrivances of boxing armour produced by eager pugilist/inventors around the turn of the 20th century.