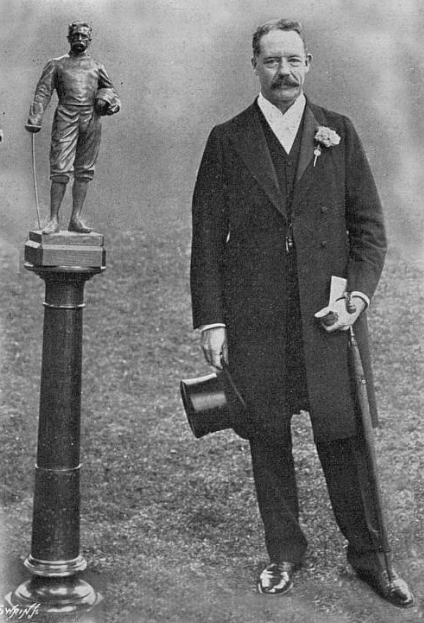 William Henry Grenfell, the 1st Baron Desborough, poses with a statuette of himself as a fencer in this Illustrated Sporting and Dramatic News photo. The effigy was presented by Captain Alfred Hutton during early July of 1909, on behalf of the British fencing community and in recognition of Grenfell's services to their sport during the 1908 London Olympics, for which Grenfell served as the primary organiser.
Both Grenfell and Hutton had been associates of the Bartitsu Club at the turn of the 20th century. Hutton had served as the chief fencing instructor and as a member of the Club's committee, and Grenfell as the Club President and as a promoter of Bartitsu as a novel method of physical culture and self defence, after having witnessed the combined Bartitsu and historical fencing displays by Edward Barton-Wright and Alfred Hutton at the London Bath Club on June 10, 1899. It's unknown as to why Barton-Wright did not maintain his association with the Bath Club, which might well have allowed his "Bartitsu experiment" to continue beyond early 1902.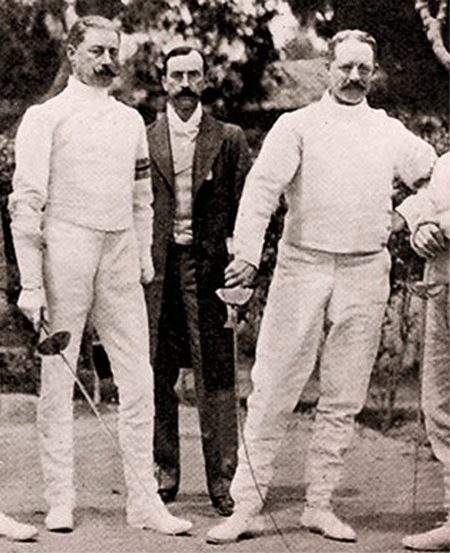 William Grenfell's own long list of athletic accomplishments included winning fencing championships in the epee style, twice swimming the rapids of the Niagara Falls, scaling the Matterhorn three times and rowing across the English Channel.